For the blog, I'm going to pick the 5 best athlete nicknames from the three major sports leagues, NBA, MLB, and the NFL. Sorry NHL, I'm from the South. This blog will be NBA only. I will do the other leagues as soon as I get some free time. I've been busy.
NBA
Charles Barkley: He has two all time nicknames in my book. The Round Mound of Rebound is an absolutely preposterous nickname for a human. I'm guessing the name comes from the roundness of his big belly, which leads me into his next nickname. The Prince of Pizza. Sounds more like a competitive eater not a round ball player.
Jerome Williams: I have zero clue who this guy is, but his nickname, The Junkyard Dog, has to be upper tier. I can see his style of play now. Gritty and hard-nosed defensive guy who for sure crashes the boards.
Shawn Bradley: This man's name screams American white male. Nickname also does as well, The Enormous Mormon. You probably have no clue who this guy is, but I've done my research! He is the tall white in Space Jam.
Allen Iverson: The Answer is one of the best nicknames of all-time. It's not funny at all, but it's very fitting for AI. I mean the man basically invented the crossover. Other notable nicknames include: Bubba Chuck and Steven John Ray the Third??????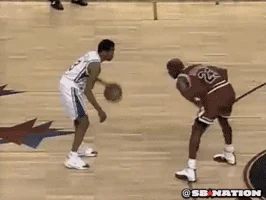 Richard Joseph McGuire: His nickname is by far the most comical I came across doing research for the blog. Tricky Dick is an absolutely hilarious nickname considering he played in the '50's. "NOW STARTING FOR THE NEW YORK KNICKS, NUMBER 15, THE TRICKIEST DICK OF THEM ALL, RICHARD JOSEPH MCGUIRE!!!!"
'